Napier Park Global is Presenting as a Silver Sponsor During Upcoming Summer Forum

Napier Park Global is a Silver Sponsor of TEXPERS' 2022 Summer Educational Forum Aug. 21-23 in El Paso, Texas, and is sending Amit Sanghani, managing director and product specialist for the firm's global credit and real asset strategies.
Napier Park Global is an Associate Member of TEXPERS. With approximately $19 billion in assets under management, Napier Park is a global alternative asset management platform offering a broad range of investment products to select institutional investors.
"Napier Park is a wonderful supporter of TEXPERS, and their speaker, Amit Sanghani, will offer expert insight into an important topic," said Art Alfaro, executive director of the Texas Association of Public Employee Retirement Systems.
Sanghani's session, Navigating Market Dislocation, starts at 3:50 p.m. in the general session room on Monday, Aug. 22, 2022.
"Serving the institutional investor community is the core of our business at Napier Park and I am pleased to have the opportunity to speak with the TEXPERS community on the highly topical theme of market dislocations," Sanghani said.
While at Napier Park, Sanghani has previously been responsible for the business development, strategic planning, client relations, and marketing of the European corporate and structured credit business and related products. Before Napier Park, he worked in structured credit products at Bank of America Merrill Lynch in London. His focus was primarily on originating and structuring European CLOs, and he worked on various credit/distressed debt products and regulatory capital solutions.
He holds a bachelor's degree in Economics from the London School of Economics and Political Science and a master's degree in Mathematical Finance from Columbia University in New York.
The theme of this year's Educational Forum, Sharing Solutions in Sun City, invites attendees to share their knowledge and insights on public fund management and investment issues while enjoying the relaxed and historic atmosphere of El Paso. TEXPERS' Educational Forum takes place Aug. 21-23, 2022, at Hotel Paso Del Norte, 10 Henry Trost Ct., El Paso, TX 79901.
A preliminary schedule is available on the Summer Educational Forum's registration site. The program is subject to change.
Online registration ended on Aug. 7. Registration will be available at the event for a higher fee; however, you can still fill out an online registration form and pay for your Forum attendance online with a credit card to help your check-in process move quicker when you arrive. Click here to fill out and pay for your registration. 
TEXPERS, founded in 1989, is a nonprofit, statewide association. The association's members include trustees, administrators, professional service providers, employee groups, and associations involved or interested in managing public employee retirement systems.
For more information, visit www.texpers.org or email [email protected].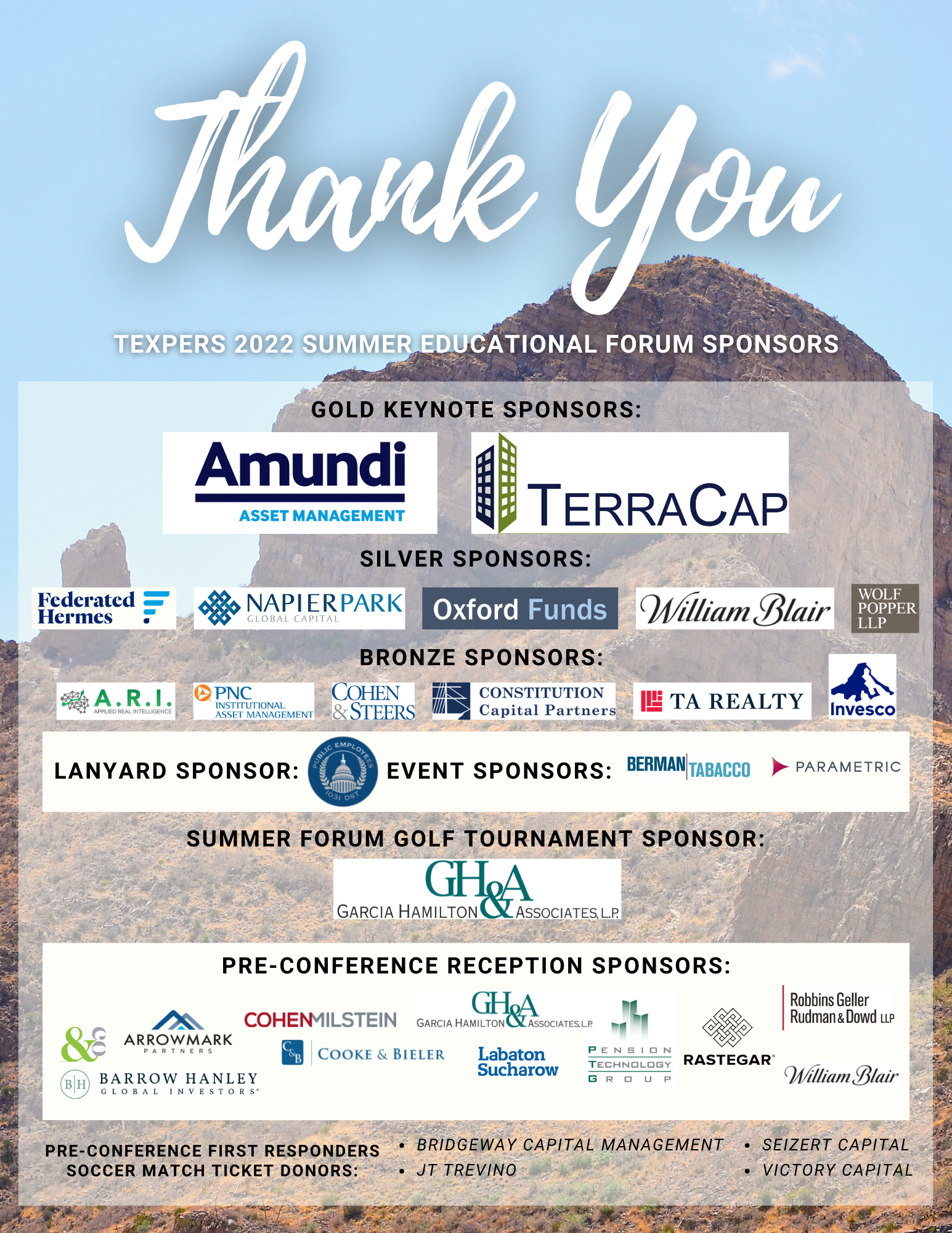 Share this post: