Public Outreach is Part of Life-saving Efforts of Texas' 29,500+ Firefighters

The National Fire Protection Association is celebrating its 100th anniversary of Fire Preventing Week this year.
On Oct. 9-15, 2022, TEXPERS is not only promoting emergency preparedness and fire safety but also is honoring America's more than 306,800 firefighters by reminding the public of the life-saving skills many provide in addition to the educational services they offer during the national observance. The National Fire Protection Association has sponsored this public health observance since 1922. It is officially the longest-running observance in the U.S. since President Calvin Coolidge proclaimed the first national observance in 1925. 
"This year's campaign, 'Fire won't wait. Plan your escape,' works to educate everyone about simple but important actions they can take to keep themselves and those around them safe from home fires," according to the NFPA's website. "Today's homes burn faster than ever. You may have as little as 2 minutes (or even less time) to safely escape a home fire from the time the smoke alarm sounds. Your ability to get out of a home during a fire depends on early warning from smoke alarms and advance planning."
During the weeklong observance, firefighters provide public education, teaching children, adults, and teachers how to stay safe to decrease casualties caused by fires.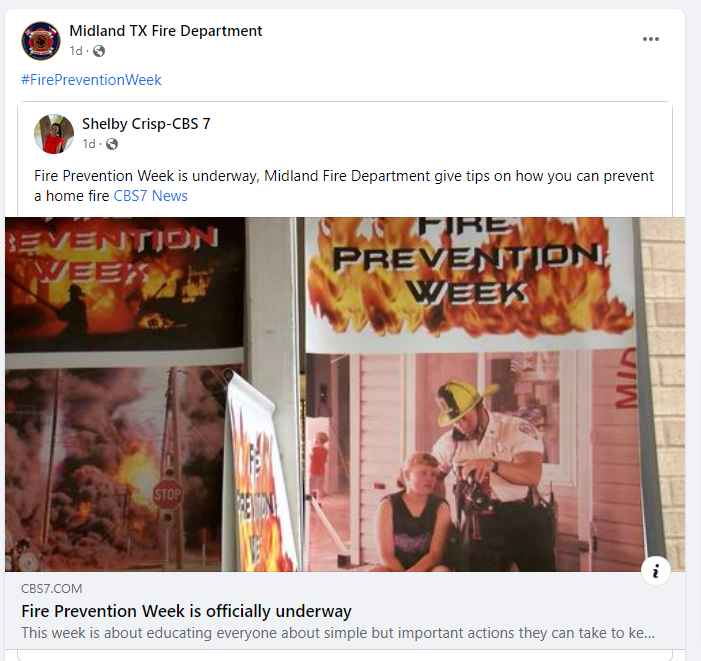 In commemoration of the Great Chicago Fire, which began on Oct. 8, 1871, Fire Prevention Week is held on Oct. 9. More than 250 people were killed, 100,000 were left homeless, 17,400 structures were destroyed, and more than 2,000 acres of land were burned as a result of the fire.
Firefighters in the U.S. and Texas
A firefighter is a first responder and rescuer specializing in putting out fires that threaten life, property, and the environment and saving people and animals. In most cases, firefighters need a high school diploma. Most get training at a fire academy, while others also get certifications like emergency medical technicians. Long-term on-the-job training is required.
According to the 2021 American Community Survey, there are 306,801 firefighters, 22,483 fire inspectors, and 45,869 firefighting and prevention first-line supervisors working in the U.S. The median pay of firefighters in 2021 was $50,700 per year or $24.38 per hour, according to the U.S. Bureau of Labor Statistics.
In Texas, there are an estimated 29,530 firefighters. As of May 2021, the state had the highest employment level of firefighters. Despite the high employment numbers, Labor Bureau data indicates the state isn't a "top-paying" state for firefighters. However, its $53,310 annual mean wage and $25.63 hourly mean pay is higher than the national yearly and per-hour mean wages.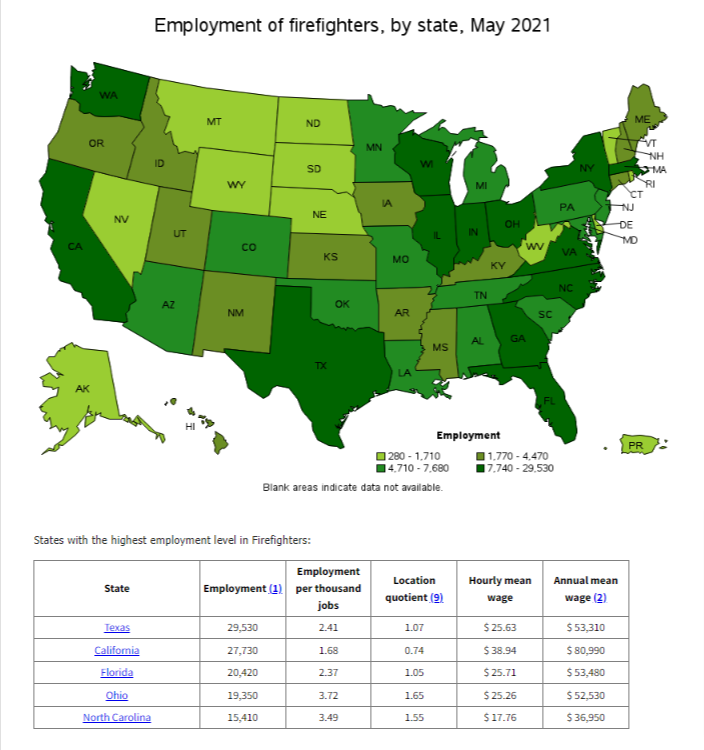 The Labor Bureau expects about 28,000 firefighters to be hired annually between 2021 and 2031. Those openings are expected to result from the need to replace workers who transfer to different occupations or retire.
Retirement Benefits
Case studies show that retirement benefits help keep firefighters on the job despite often low wages. In a 2019 survey, state and local employees indicated that retirement benefits are very important features of their careers. Nearly all state and local workers say pensions incentivize public workers to have long public service careers and say offering pensions is a good tool for attracting and retaining employees.
It's evident from the research that public service is vital for state and local workers like teachers, nurses, police officers, and firefighters, says Dan Doonan, executive director of the National Institute on Retirement Research, which conducted the 2019 job satisfaction survey of public employees.
"They serve despite high job stress and lower salaries," he says in the release. "And it's equally clear that healthcare and retirement benefits have a magnetic effect on public employees. Understanding at a deep level these employee preferences and concerns will best position state and local policymakers to recruit and retain qualified, experienced employees that taxpayers depend upon."
In Texas, many firefighters work toward the promise of a secure retirement. Others have already spent decades vesting a portion of their wages into a defined-benefit pension plan. The employer-sponsored retirement accounts provide public employees with a fixed payout during their retirement years.
Firefighters typically receive payouts based on how long they have worked for their employer and their salary. When they retire, they can choose between a lump-sum payout and a monthly "annuity."
Employees and employers contribute to a defined-benefit retirement plan, which invests in a fund to cover future payouts. By eliminating the need for employees to make their own investments, defined-benefit plans offer a more secure retirement. 401(k)s and other defined-contribution programs have not been successful, according to studies. A defined-benefit pension rewards public employees, like firefighters, for their loyalty to public service, benefiting taxpayers who rely on their lifesaving services and public outreach efforts.
About the Author: Allen Jones is director of communications and event marketing for TEXPERS. 
FOLLOW TEXPERS ON FACEBOOK, TWITTER, AND LINKEDIN FOR THE LATEST NEWS ABOUT TEXAS' PUBLIC PENSION INDUSTRY.
Share this post: