Nearly 290 Attend TEXPERS' Educational Forum in San Antonio

In a state very much open for business after a more than a year of social distancing during a pandemic, nearly 290 people headed "Back to the Future" to get some insight into how the pension management industry might look in a post-pandemic world during TEXPERS' 2021 Summer Educational Forum, Aug. 29-31, in San Antonio, Texas.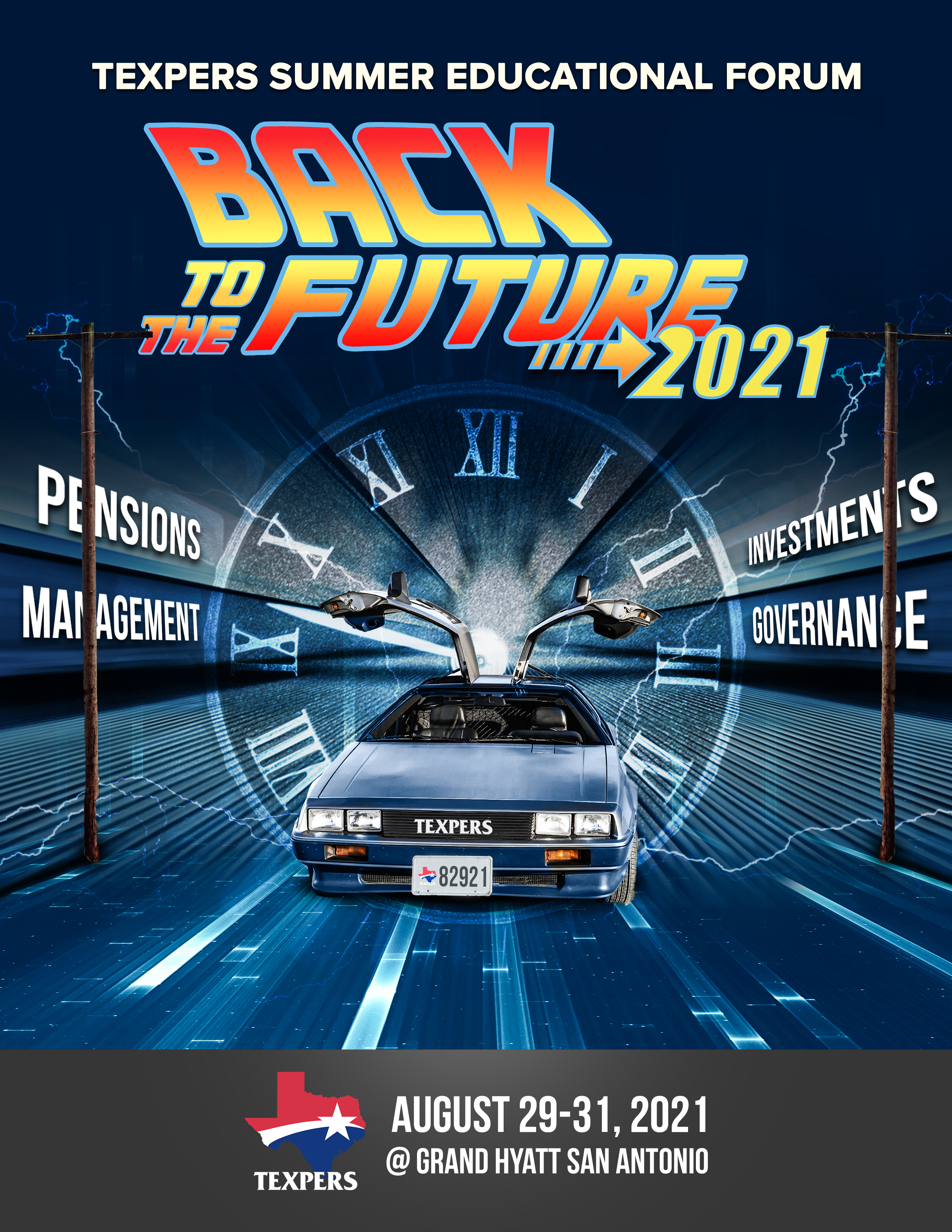 Back to the Future was the theme of the Texas Association of Public Employee Retirement Systems' in-person gathering at the Grand Hyatt San Antonio Hotel, located at the city's famed River Walk. The forum was the association's second in-person gathering this year since business reopened in the Lone Star State after the novel coronavirus pandemic forced governments worldwide to enact lockdown policies for more than a year after the virus hit in early 2020.
The majority of attendees at the forum were first responders who had received COVID-19 vaccines, which the FDA authorized for emergency use. Texas isn't utilizing mask or vaccine mandates; however, TEXPERS and the forum venue encouraged wearing a face-covering when necessary. Additionally, the Grand Hyatt implemented safety policies, including frequent sanitizing, employee temperature checking, hand hygiene stations for staff and guests, and other measures designed to ensure wellness. Art Alfaro, TEXPERS' executive director, says the hotel's wellness program, along with a lineup of timely pension-industry topics and a group of members eager to network and learn, made for a successful gathering.
"We hosted a successful Annual Conference in May that acknowledged our association's return to in-person gatherings since the start of the pandemic in 2020," Alfaro says. "Through our recent Educational Forum, we used timely educational topics to help our public retirement system member trustees and administrators see beyond the pandemic that, hopefully, isn't too distant in the future."
Click here to see TEXPERS' Facebook Photo Album of the Summer Educational Forum.
TEXPERS hosts educational programs for the trustees and administrators that manage the retirement funds of police officers, firefighters, and municipal and district employees throughout Texas. The association has 68 member pension systems that manage $32.7 billion in retirement assets for 57,728 active members and 60,737 retirees and beneficiary annuitants.  
Like its Annual Conference, the Educational Forum brings Texas' key pension stakeholders together for education, training, and networking. Sessions include topics that allow retirement systems trustees and administrators to earn training in issues approved by the Texas Pension Review Board, such as fiduciary matters, governance, ethics, investments, actuarial matters, benefits, administration, and risk management, among others. TEXPERS is a Minimum Educational Training Program Accredited Sponsor approved by the PRB to award continuing education credit hours for courses that meet the state agency's training guidelines for new and continuing trustees and administrators.
Click 

here

 for a complete schedule from TEXPERS' 2021 Summer Educational Forum.
Forum Highlights
Trustee Training: TEXPERS hosted a Basic Trustee Training course for those newly elected to their pension system boards of trustees. The course, held Sunday, Aug. 29, offered up to seven hours of core training satisfying state requirements of the Texas Pension Review Board. TEXPERS is accredited by the PRB as a Minimum Educational Training sponsors for Texas public retirement systems. The training course was arranged by Champion Capital Research. 
Opening Ceremony: The Summer Educational Forum began Monday, Aug. 30 with an opening ceremony complete with a Color Guard, prayer, pledges to the US and Texas flags, and singing of the National Anthem lead by Max Patterson, of BLBG, and James Perry, of Maples Group.
The ceremony also included a special recognition of member Ralph Marsh, executive director of the Houston Firefighters' Relief and Retirement Fund, who is retiring from the system on Oct. 1. The same day, a flag in Marsh's honor at the Capitol in Austin. 
Marsh has an extensive resume in the public service and public pension industries. He spent 33.5 years at the Houston Police Department, 20 years with the City of Houston's Deferred Compensation Advisory Committee, 19 years with the Houston Police Officers Pension System Board of Trustees, seven years with the Houston Firefighters Relief and Retirement Fund as its executive director, four years as president of the National Association of Government Defined Contribution Administrators, and three years as board chairman of HPOPS. He spent two years as a Police Representative to the Board of Directors of TEXPERS. 
Click here to watch a video of the special recognition TEXPERS gave to Marsh during the forum's opening ceremony. 
Digital Collectible: TEXPERS partnered with gamification and digital wallet company PointsVille to create the world's first educational digital collectible for a large pension association. Attendees at the educational forum collected educational points in augmented reality to shop for rewards. The aim was purely educational. In fact, a session held Tuesday, Aug. 31, discussed the project as an engaging way to introduce the concept of cryptocurrency to retirement system. The session, Cryptocurrency in Your Portfolio: Are Pension Systems Ready to Dive In?, was presented by Kristin Boggiano, co-founder and president of CrossTower, and Gabor Gurbacs, director of digital asset strategy at VanEck and CEO of PointsVille, and moderated by James Perry, head of institutional investor solutions with Maples Group. 
Sponsors
"Our sponsors help us ensure our system member trustees and administrators are receiving advanced investing and management information," says Alfaro. "Twice a year, we host our Annual Conference and our Summer Educational Forum, offering a wide-range of topics that touch on pension fund operations and investment management. Providing pension system trustees and administrators with high-quality education and training is our mission. We couldn't do it without our valued sponsors, including those who recently supported TEXPERS' 2021 Summer Educational Forum in San Antonio, Texas."
Save the Date: It's never too early to start planning. TEXPERS' 2022 Annual Conference is set for April 3-6 in Fort Worth, Texas.
Share this post: