Three Keys to the Tech Growth Opportunity

In a world of scarcer growth and rising competition, the future belongs to companies that understand the transformative power of technology and successfully integrate it within their core business models. This was demonstrated and accelerated by the COVID-19 lockdowns of 2020. The outperformance of technology and technology-related companies is a powerful reminder that tech opportunity is no longer confined to hardware, software, and the internet giants. What's more, the tech-driven growth is far from over. There's a wide frontier ahead for new market leaders to emerge. Amid rapid technology change and adoption, our research points to three catalysts for earnings and revenue growth in the United States and globally:
Direct-to-consumer business models

Technology enablers

Digital transformation of the enterprise
1. Direct-to-consumer business models
Direct-to-consumer (DTC) business models are based on the growth of e-commerce and are becoming essential for certain types of companies to develop relationships with consumers and bypass intermediaries (and avoid the exorbitant fees or investments they require). They enable companies to build customer loyalty through superior personal service and expand their target markets, projecting their marketing and sales presence across borders without requiring new physical storefronts. The DTC model is fundamentally changing the competitive landscape in several industries, from retail, to entertainment, to electric vehicles.
The opportunity is suggested by the growth of e-commerce. As a share of global retail, sales was about 14% just before the pandemic, but it leapt to nearly 18% as lockdowns and health precautions forced people to stay home. Jennison expects this to be a new baseline for continued growth. 
2. Technology enablers
The success of DTC companies is heavily dependent on other parts of the tech ecosystem. Even just a few years ago, new businesses and entrepreneurs faced daunting challenges when using technology. To interact with customers, they had to create a website, manage it, and invest in the infrastructure to support it. Today, this infrastructure, expertise, and innovation can be accessed easily and relatively cheaply through companies that exist to make it easier to conduct e-commerce. We call these companies tech enablers.
Tech enablers are the companies that provide the behind-the-scenes infrastructure and expertise that supports e-commerce businesses. Tech enablers can offer a single-payment platform for companies around the world to process transactions across multiple channels, including online, mobile, and in-store. They can also innovate, improve service, and address challenges such as security threats. Tech enablers allow companies to bring their disruptive ideas to market, supported by tech expertise that is innovating and constantly improving – all at a manageable cost.
The tech enablers secular growth theme is playing out around the world. We believe it offers opportunities to incumbents but especially to the innovators and disruptors, which are building bigger platforms that serve more customers with different services than was previously considered possible. Much of this opportunity is based upon the third major theme from the tech ecosystem – the digital transformation of the enterprise. 
3. Digital transformation of the enterprise
The emergence of cloud services represents a paradigm shift in technology comparable to the advent of the internet. For many years now, companies have been able to increasingly move their services and processes onto the cloud, raising their efficiency and allowing them to focus on their product or service. Cloud migration has also driven demand for both software – the programming companies need to run their operations – and hardware – the servers needed to host and process software and data.
This investment theme is, in some ways, the latest iteration of a long-standing trend in technology: US capital spending patterns reveal an ongoing shift towards next economy industries at the expense of old economy industries. From the early 1980s through early 2020, the amount of capital spending allocated to old economy industries has fallen from close to 80% to approximately 50%, while capital spending on next economy industries has more than doubled from the mid 20% range to just over 50%.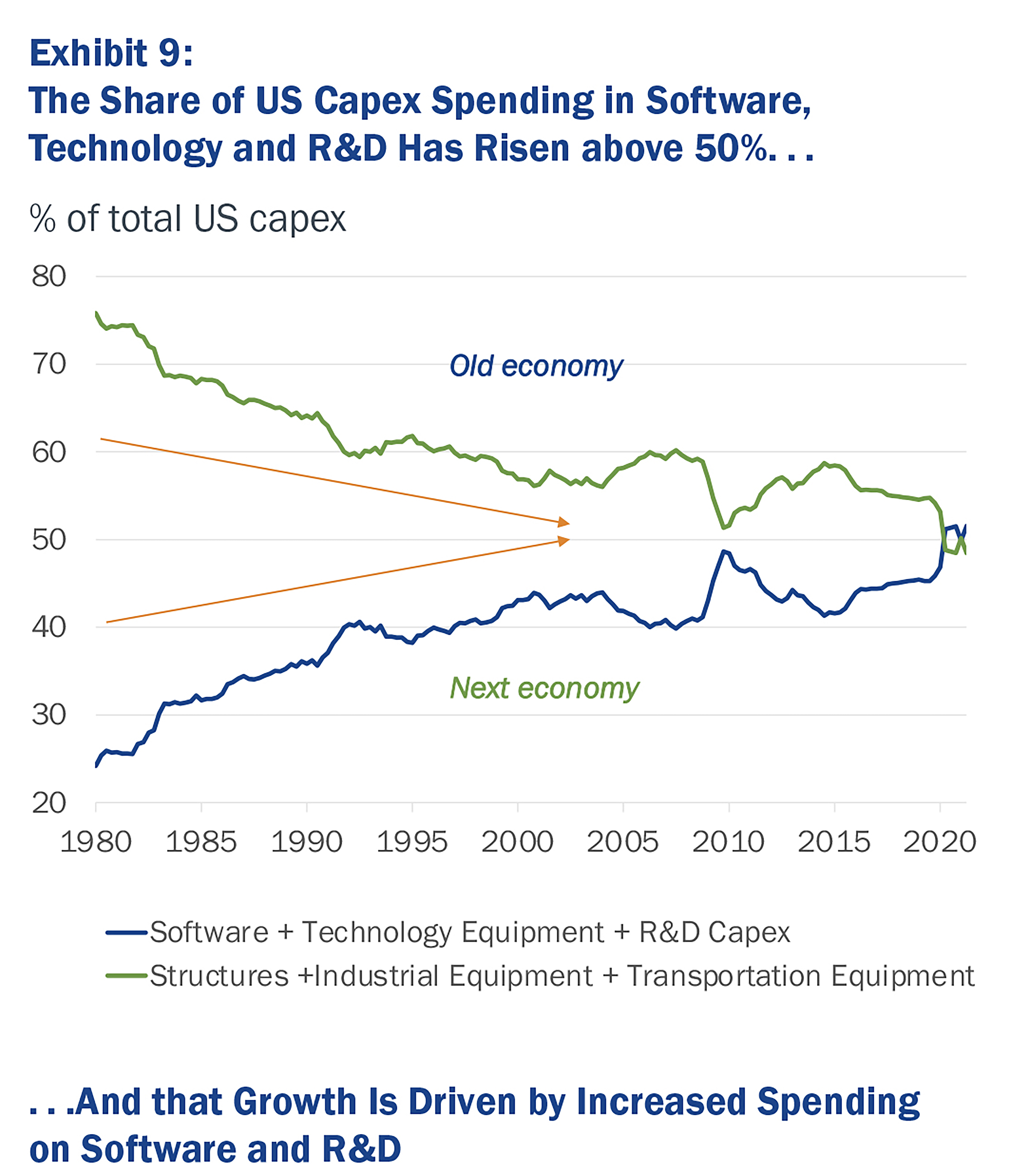 The growth of a business's investment often directly corresponds to the business's ability to exploit opportunities and raise its overall growth rate. Even among the big scalable platforms, capex spending is higher than the overall market. This investment in technology infrastructure is a core driver of future revenue and earnings growth.
Conclusion: Who will benefit from technology disruption?
The shock of the pandemic has more clearly revealed a new world of technology-driven change. Many companies that had invested in technology or incorporated it deeply into their strategies were well positioned, and we do not expect this trend to weaken even as the worst of the pandemic passes. Across industries, companies are evolving to asset-light balance sheets, leading to higher margins and more sustainable profitability. Compared to asset-heavy models, benefits can include higher return on assets, lower profit volatility, greater flexibility and higher scale-driven cost savings. For investors, we believe this represents an extraordinary opportunity to gain exposure to long-term growth and returns from this unfolding secular change.
For a more indepth version of the article, click here.
About the Author:
Mark B. Baribeau, CFA, is the Head of Global Equity and a global equity portfolio manager. He joined Jennison in 2011. Baribeau was previously with Loomis Sayles for more than 21 years, where he was a global equity and large cap growth portfolio manager. Prior to Loomis, he was an economist at John Hancock Financial Services. Baribeau received a bachelor's degree in economics from the University of Vermont and an MA in economics from the University of Maryland.
Disclaimer:
Jennison Associates LLC is an Associate member of TEXPERS. The views and opinions contained herein do not necessarily represent the views of TEXPERS. 
The views expressed are those of Jennison Associates LLC investment professionals and are subject to change without notice. For additional disclosures, please see www.Jennison.com.
Follow TEXPERS on 
Facebook
, 
Twitter
 and 
LinkedIn
 as well as visit our 
website
 for the latest news about Texas' public pension industry.
Share this post: