Law Firm Wolf Popper is Presenting as a Silver Sponsor During TEXPERS Educational Forum in El Paso

Wolf Popper LLP is a Silver Sponsor of TEXPERS' 2022 Summer Educational Forum Aug.21-23 in El Paso, Texas, and is sending securities and commercial litigation attorney Joshua Ruthizer as a presenter.
Law firm Wolf Popper is an Associate Member of TEXPERS. The sponsor is headquartered in New York City with offices or attorneys in Larchmont, NY; Houston, Texas; Chicago and Springfield, Illinois; Newton, Massachusetts; and San Juan, Puerto Rico.
"Wolf Popper is a reliable partner of TEXPERS, and their speaker, Joshua, is well aware of the importance of continuing education for our association's retirement system members," said Art Alfaro, executive director of the Texas Association of Public Employee Retirement Systems. "We appreciate that Joshua and his firm, Wolf Popper, are joining us in El Paso to ensure our members understand the latest trends in securities litigation."
Wolf Popper is a leading firm in the field of class action litigation, particularly in the areas of securities fraud and mergers and acquisitions litigation. The firm has recovered billions of dollars for defrauded investors. In addition, Wolf Popper practices in consumer fraud litigation, healthcare litigation, and international arbitration.
Wolf Popper's attorneys investigate and prosecute complex class and individual litigation matters. The courts have repeatedly recognized Wolf Popper's reputation and expertise, appointing the firm to major positions in complex multi-district and consolidated litigations across the country.
Ruthizer is a partner at Wolf Popper. He has represented clients in state and federal courts across the country in securities and commercial litigation. Ruthizer was named as a Super Lawyer (New York Metro Edition) in the practice area of securities litigation from 2019-2021 and was listed as a Rising Star from 2014-2018.
He lectures concerning securities fraud and fiduciary duty issues at investor and pension plan forums throughout the U.S. Ruthizer is a graduate of Lafayette College and Columbia Law School. He is admitted to practice law in New York and Florida.
Ruthizer will present The Case For and Against Shareholders Litigating ESG Issues at 11:15 a.m. on Monday, Aug. 22, during the general session of TEXPERS' 2022 Summer Educational Forum.
Institutional investors increasingly apply Environmental, Social, and Governance (ESG) factors when making investment decisions. Institutional investors, and other stockholders, have also brought litigation against companies and their boards for ESG-related failures with varying success.
The session will start by discussing the background of ESG stockholder litigation. It will conclude with a roundtable discussion concerning the issues involved with ESG stockholder litigation and the outcomes of ESG stockholder litigations from the past few years.
The theme of this year's Educational Forum, Sharing Solutions in Sun City, invites attendees to share their knowledge and insights on public fund management and investment issues while enjoying the relaxed and historic atmosphere of El Paso. TEXPERS' Educational Forum takes place Aug. 21-23, 2022, at Hotel Paso Del Norte, 10 Henry Trost Ct., El Paso, TX 79901.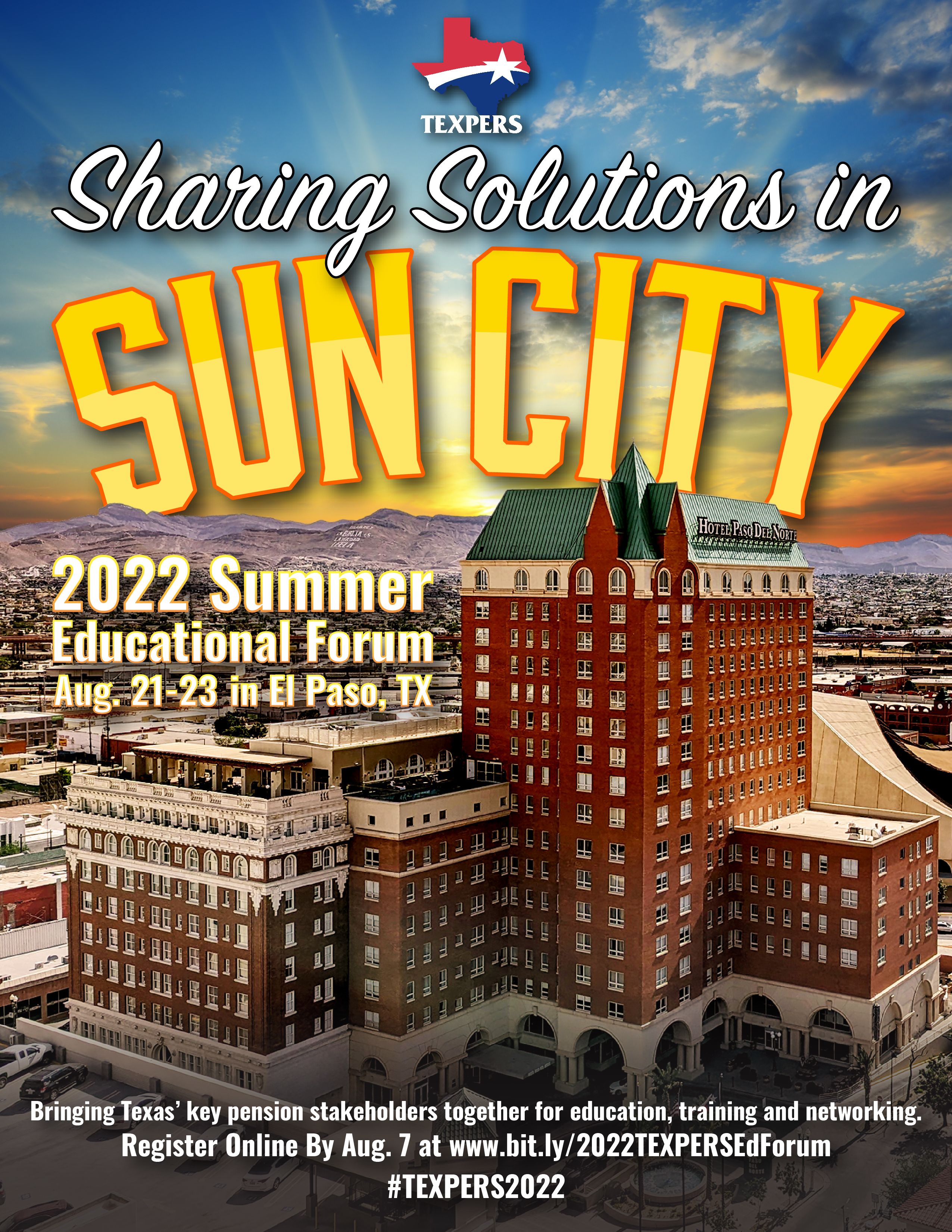 A preliminary schedule is available on the Summer Educational Forum's registration site. The program is subject to change.
Online registration is ongoing through Aug. 7. After that date, registration will be available at the event for a higher fee. A special room block rate is available for $98+tax per night for TEXPERS Summer Educational Forum attendees who register through July 29, 2022, or until the block room nights run out.
Those who register for the forum will receive an email containing a link to the hotel reservation site. See the registration site above for details.
TEXPERS, founded in 1989, is a nonprofit, statewide association. The association's members include trustees, administrators, professional service providers, employee groups, and associations involved or interested in managing public employee retirement systems.
FOLLOW TEXPERS ON FACEBOOK, TWITTER, AND LINKEDIN FOR THE LATEST NEWS ABOUT TEXAS' PUBLIC PENSION INDUSTRY.
Share this post: