Oxford Funds is Presenting as a Silver Sponsor During Summer Forum in El Paso,

As a Silver Sponsor of TEXPERS' 2022 Summer Educational Forum in El Paso, Texas, Oxford Funds, LLC will send Senior Portfolio Manager Deep Maji to present.
Oxford Funds is an Associate Member of TEXPERS. According to its website, Oxford Funds is the parent company of credit-focused investment advisers that manage funds investing in U.S. collateralized loan obligation (CLO) equity, U.S. CLO junior debt, and syndicated corporate loans.
"Deep is well aware of the importance of continuing education for our association's retirement system members," said Art Alfaro, executive director of the Texas Association of Public Employee Retirement Systems. "We appreciate that he is joining us in El Paso to help our System Members understand CLO equity."
Maji's session, The Case for CLO Equity; Why CLO Equity, Why Now?, is from 10:15-11 a.m. on Tuesday, Aug. 23, 2022.
"I look forward to joining everyone at the TEXPERS Summer Educational Forum and sharing our thoughts on the opportunities in CLOs and CLO equity," Maji said. "CLOs are a $1 trillion + asset class, and we believe the most compelling opportunities come during periods of uncertainty and volatility, such as the one we are in today."
Maji has been investing in U.S. CLO equity and U.S. CLO junior debt tranches since 2009 and leads Oxford Funds' CLO investing team. He graduated from the Jerome Fisher Program in Management and Technology at the University of Pennsylvania, earning a bachelor's degree in Economics from the Wharton School and being designated a Joseph Wharton Scholar. He also received a bachelor of applied studies from the university's School of Engineering.
The theme of this year's Educational Forum, Sharing Solutions in Sun City, invites attendees to share their knowledge and insights on public fund management and investment issues while enjoying the relaxed and historic atmosphere of El Paso. TEXPERS' Educational Forum takes place Aug. 21-23, 2022, at Hotel Paso Del Norte, 10 Henry Trost Ct., El Paso, TX 79901.
A preliminary schedule is available on the Summer Educational Forum's registration site. The program is subject to change.
Online registration ended on Aug. 7. Registration will be available at the event for a higher fee.
TEXPERS, founded in 1989, is a nonprofit, statewide association. The association's members include trustees, administrators, professional service providers, employee groups, and associations involved or interested in managing public employee retirement systems.
For more information, visit www.texpers.org or email [email protected].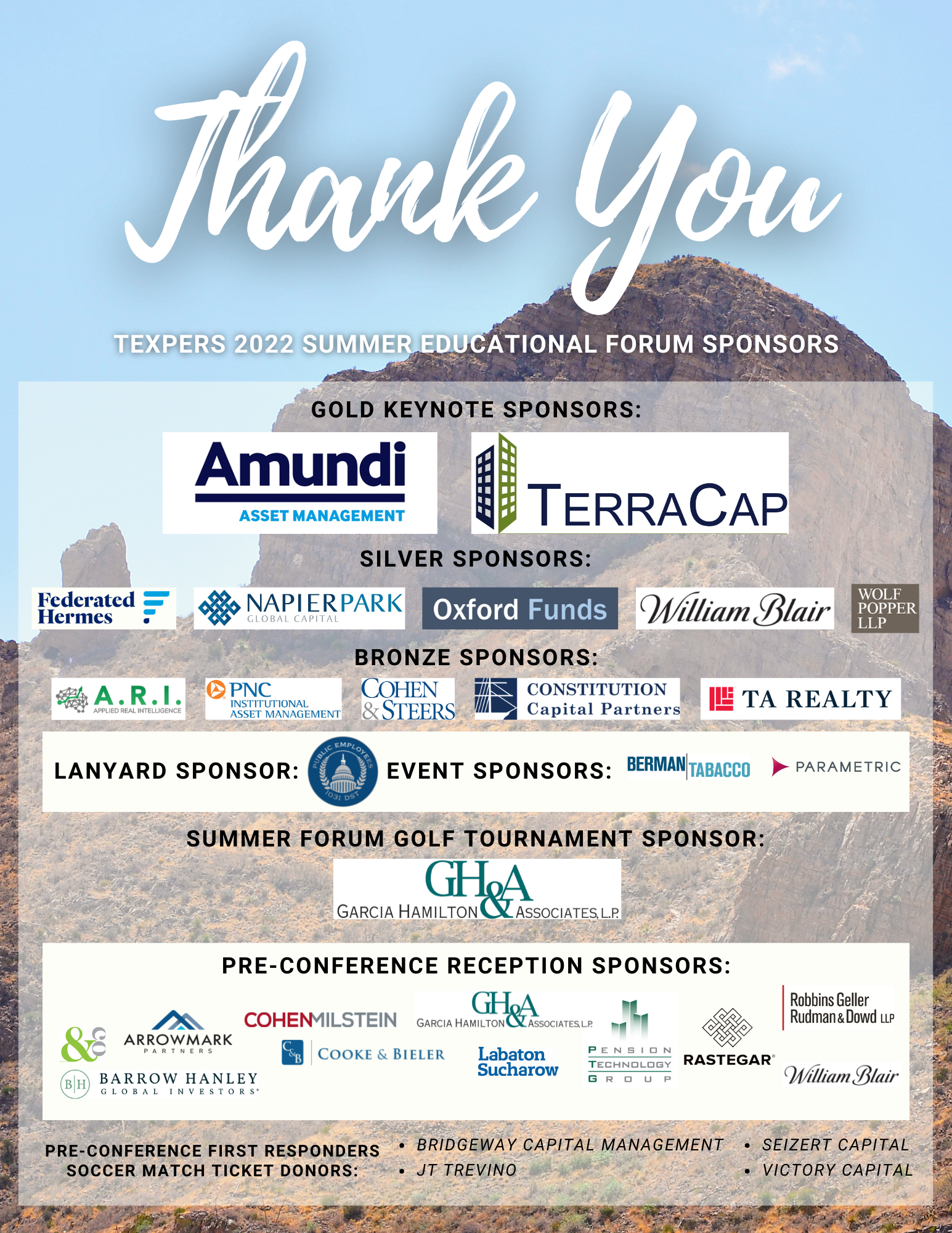 Share this post: