Roughly 450 Attend TEXPERS' 2021 Annual Conference
The Texas Association of Public Employee Retirement systems held its annual conference May 23-26 in Austin, one of the first conferences in the state to be held in person since the novel Coronavirus pandemic began in 2020.
Over 450 people attended TEXPERS' 2021 Annual Conference, the association's most attended event featuring professional development focused on current pension industry topics.
"We are very pleased with the turnout," said Art Alfaro, TEXPERS' executive director. "A lot of eyes were on us as we were among the first to return to in-person gatherings in Texas - in the nation, even. It was a challenge that our staff and Board of directors happily met. Our success is also due to our system members seeking out the quality professional development that our association provides and the support of our conference sponsors and exhibitors."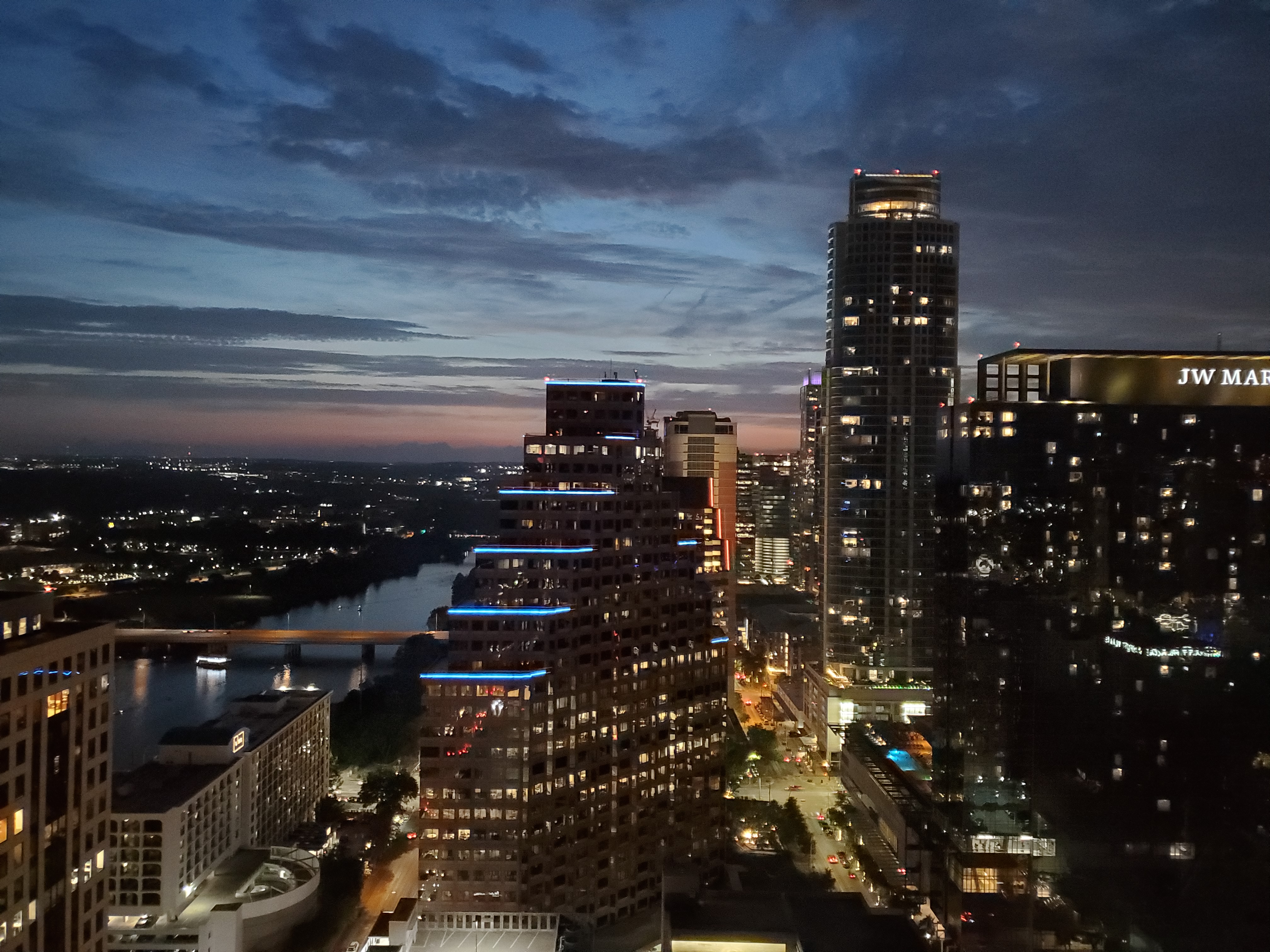 The Austin evening skyline as seen from the Austin Marriott Downtown, 304 E. Cesar Chavez St. Click here to see a Facebook album of additional photos from TEXPERS' 2021 Annual Conference, held May 23-26.
Back to Business
TEXPERS' 31st annual event took place at the Austin Marriott Downtown, just steps from the state Capitol where the 87th legislative session was winding down. The conference began on May 23. The conference theme, Back to Business, noted TEXPERS' return to in-person professional development and face-to-face networking among its membership.
An early morning golf tournament at Austin's Grey Rock Golf Club kickstarted the conference.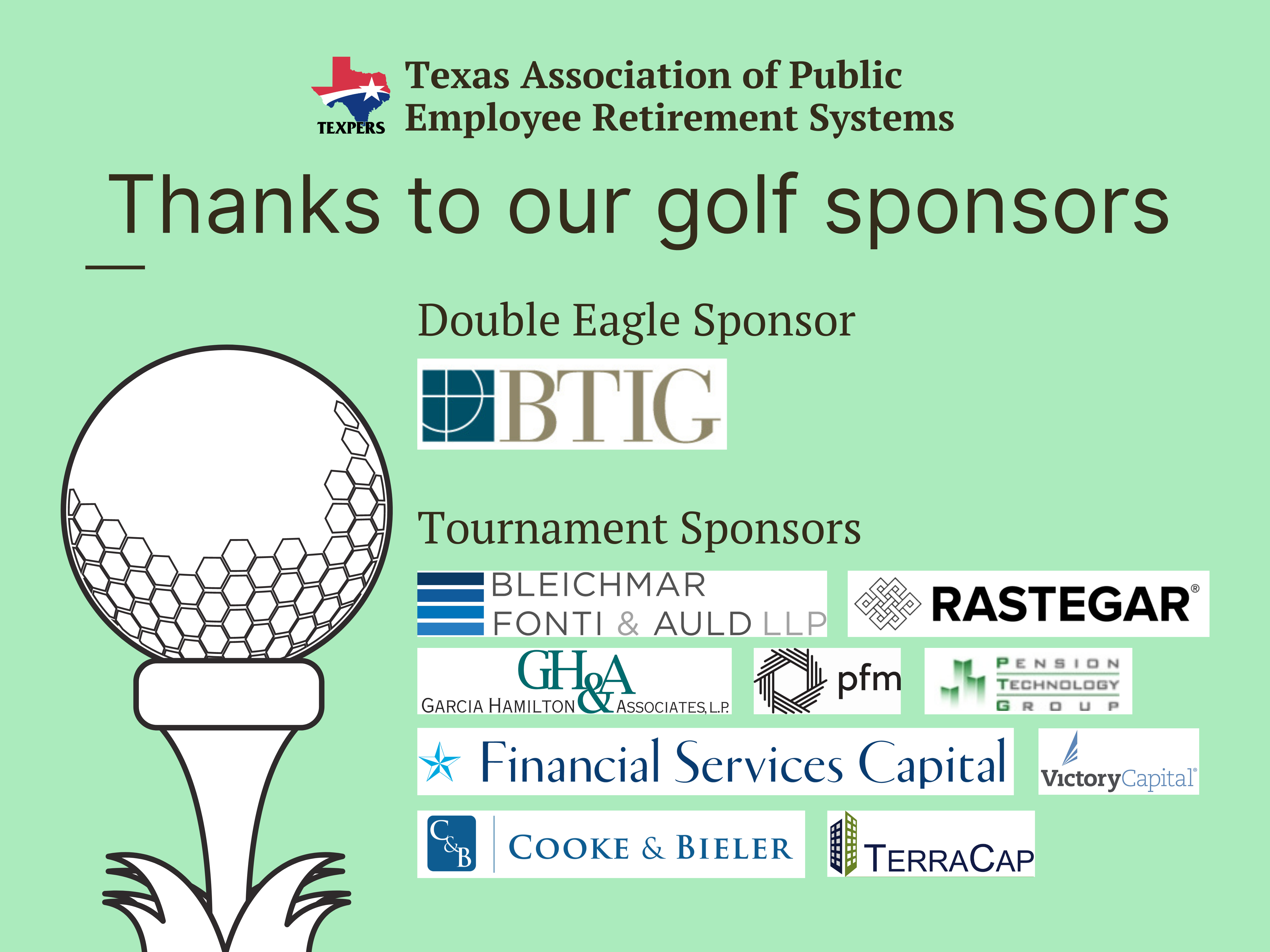 For those who chose not to go golfing, a workshop, Interest Rates & Stagflation: Impact on Portfolios and Retirement, was conducted by Mary Kathryn Campion of Champion Capital Research. The day included on-site registration and a welcome reception.
"TEXPERS trustees participated in the conference with such enthusiasm and commitment to fiduciary best practices," said Campion, the workshop presenter. "The TEXPERS staff pulled off one of the best conferences ever."
The conference schedule continued on May 24 with an opening ceremony that included a tribute to Billy Samuel, a TEXPERS board member who died last year after contracting COVID-19. Matthew Hansen and Miroslav Boublik of Financial Services Capital gave the opening keynote presentation discussing fiduciary responsibility. The firm was a Gold Sponsor of the conference.
Watch a Video of the Opening Keynote
The day continued with educational sessions and a members' event on May 24. 
Additional topics included US fiscal policy, plan management, social impact investing, asset allocation, equity markets, securities portfolio monitoring, and commercial real estate. TEXPERS brought in motivational speaker Steve Haffner, a mentalist, to discuss the importance of building trust and loyalty by outsmarting erroneous cognitive impulses. 
The conference continued on May 25 with a full day of general and breakout sessions. Scott Kapnick, CEO of HPS Investment Partners, discussed private credit during the opening keynote presentation. HPS supported the conference as a Gold Sponsor.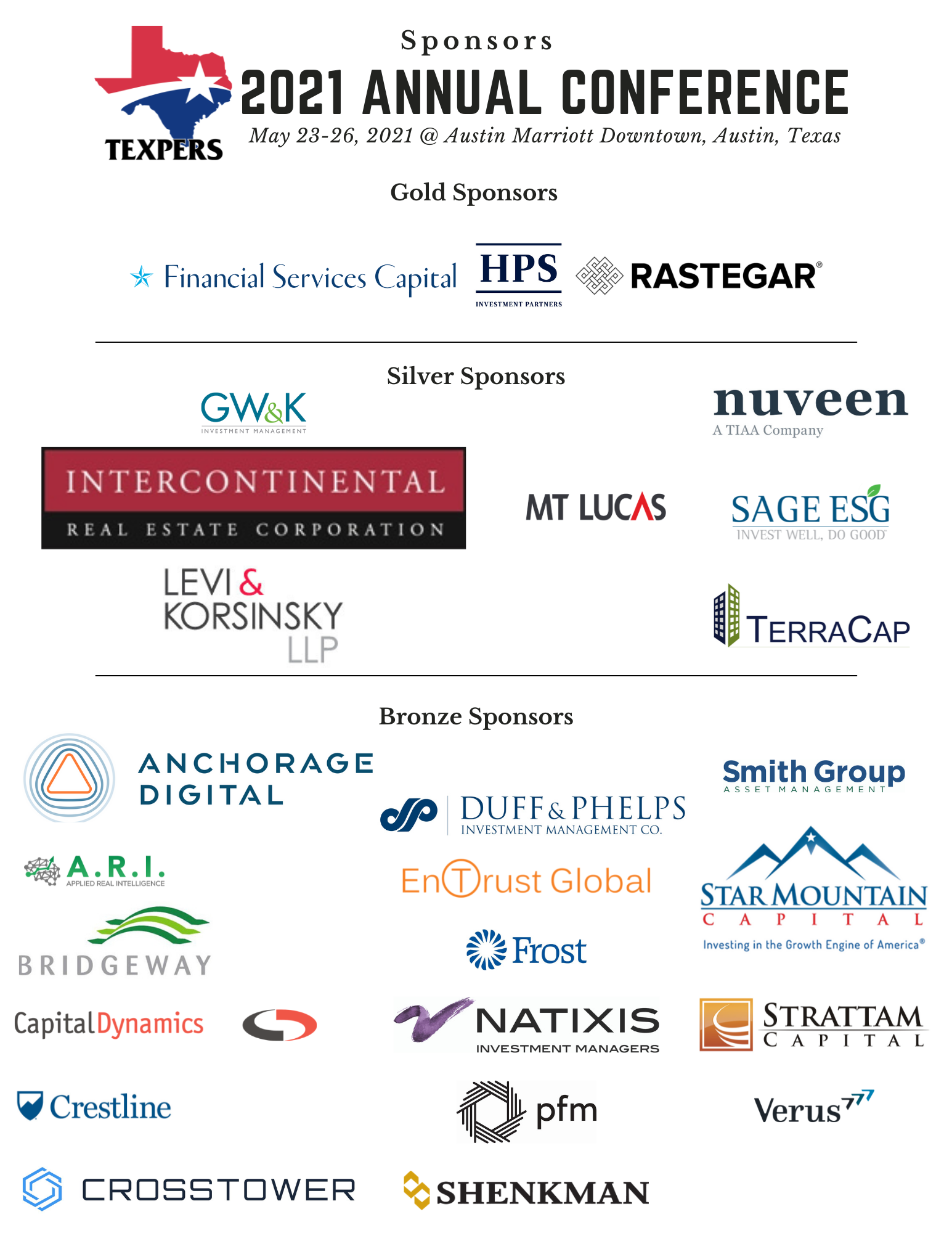 Additional topics included: 
Demographic shifts impacting real estate portfolios

Emerging markets in Asia

Credit strategies

Real estate investment

Private equity

Cryptocurrency

Real asset opportunities

Private credit strategies
Bridgeway Capital Management President and CEO Tammira Philippe, left, and author and Bridgeway Foundation CEO Shannon Sedgwick Davis, discuss the philanthropic work of the firm and the foundation's outreach in Central and East Africa. Click here to see a Facebook album of additional photos from TEXPERS' 2021 Annual Conference, held May 23-26.
Shannon Sedgwick Davis, author and CEO of Bridgeway Foundation, a philanthropic organization dedicated to ending and preventing mass atrocities worldwide, discussed her work with the organization's Central and East Africa efforts to mobilize civilian protection. She also discussed her book, To Stop a Warlord: My Story of Justice, Grace, and the Fight for Peace. Copies were made available to conference attendees. 
Learn more about the foundation by clicking here. 
The final day of the conference, May 26, included a half-day of additional informational sessions. Topics included the consolidation of pension systems, Texas feeder funds, pension funding strategies, and the 2021 legislative session.  
Click Below to Download Session Presentations
 This year, TEXPERS also returned to in-person training for new and continuing trustees of public retirement systems. Training programs for new and tenured trustees, approved by the Pension Review Board of Texas, were held in Austin on May 22, the day before the conference. 
New TEXPERS Board Lineup
The TEXPERS Annual Conference also hosts the association's yearly business meetings and committee meetings. This year also included caucus gatherings to elect representatives to the TEXPERS Board of Directors. It allowed the Board to elect new leadership. 
Despite no new members being elected to the association's Board of directors, the Board's leadership changed. Jim Smith, chairman of the San Antonio Fire & Police Pension Fund, is the newly elected president of the TEXPERS Board of Directors. 
TEXPERS' newly elected Board President, Jim Smith, left, stands with TEXPERS Executive Director Art Alfaro on the last day of the association's Annual Conference in Austin. Click here to see a Facebook album of additional photos from TEXPERS' 2021 Annual Conference, held May 23-26.
Smith replaces Paul R. Brown in the role. Smith was first elected to TEXPERS' Board in 2014 and has served in other positions on the Board and has served on various association committees. Smith is a sergeant in the San Antonio Police Department, where he has worked for more than two decades. 

Sherry Mose, a plan administrator of the City of Houston Deferred Compensation Program, is Board's first vice president. She previously served as the Board's secretary. 
Jose Cavazos, of the Dallas Area Rapid Transit Retirement Plan and Trust, is the second vice president of TEXPERS' Board. He is an appointed fiduciary of DART's Defined Contribution Committee. He also serves as a Southwest Region Representative for the Latino Caucus through Amalgamated Transit Union. 
Also, from the Dallas Area Rapid Transit Retirement Plan and Trust, Larry Knott is treasurer of TEXPERS' Board of Directors. He has served on the plan's defined benefit retirement committee for more than a decade. He is the former executive vice president of Amalgamated Transit Union Local 1338.
The TEXPERS Board elected Carla Brewer, of the Dallas Employees' Retirement Fund, to serve as its secretary. She is the City of Dallas' financial services manager for the equipment and fleet management department. She has worked for the city department for 24 years. 
Continuing as TEXPERS Board members are:  
Terry A Bratton, Houston Police Officers' Pension System

Paul R. Brown, Big Spring Firemen's Relief & Retirement Fund

Tyler C. Grossman, El Paso Fire & Police Pension Fund

John D. Jenkins, Dallas Employees' Retirement Fund

Larry Reed, San Antonio Fire & Police Pension Fund

David Stacy, Midland Firemen's Relief & Retirement Fund
 Learn more about TEXPERS' Board Members by clicking here.
"The COVID-19 pandemic caused us to cancel last year's gatherings to abide by social distancing guidelines enacted by the state," Alfaro, TEXPERS' executive director, said. "That also meant a delay in board elections. "I am thankful for the work of our board members, and I look forward to working with the association's new president for the benefit of our system members."
TEXPERS is a statewide nonprofit educational association organized in 1989. Members are trustees, administrators, professional service providers, employee groups, and associations engaged or interested in the management of public employee retirement systems. TEXPERS' member systems and employee group members represent 2.9 million active and retired public employees.
Follow TEXPERS on Facebook, Twitter and LinkedIn as well as visit our website for the latest news about Texas' public pension industry.
Share this post: